FAQ

Laser printer-How to copy content from one to another
If you want to copy all content from your current laser printer and move into another laser printer, here shows you how to copy and paste:

Laser printer-Will laser harm human body?
Laser is safe to human skin.
You can check below video to confirm:

Laser printer-How to test pipe speed-Tachometer
If you don't want to use Encoder on the pipe production line, or it not work very accurate. Here is what you can do:
Put the encoder on pipe production line first, select "Enable Encoder", click "Tachometer" to test to get the speed of the pipe line, then don't select "Enable Encoder" and input the test speed into right mm/s. Please check the below picture, and also you check click the video link to understand more.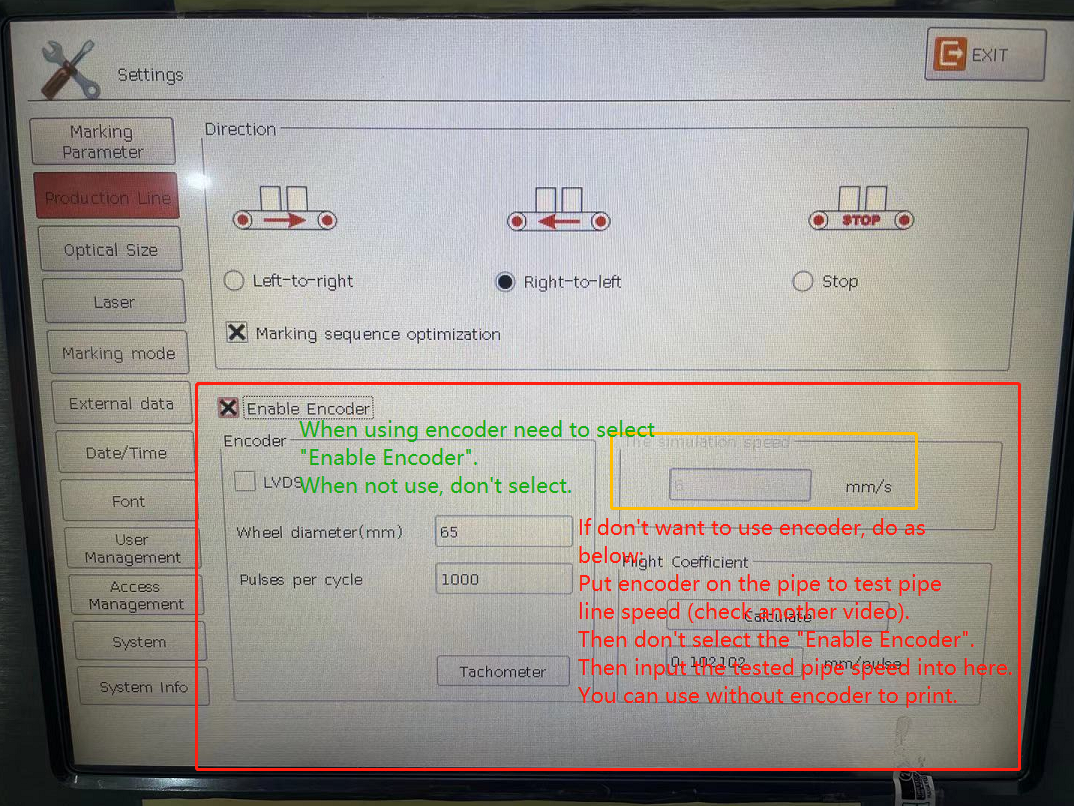 Video link: https://youtu.be/8u7ynIDRkZg


Laser printer-How to save print content


Laser printer-How to set marking distance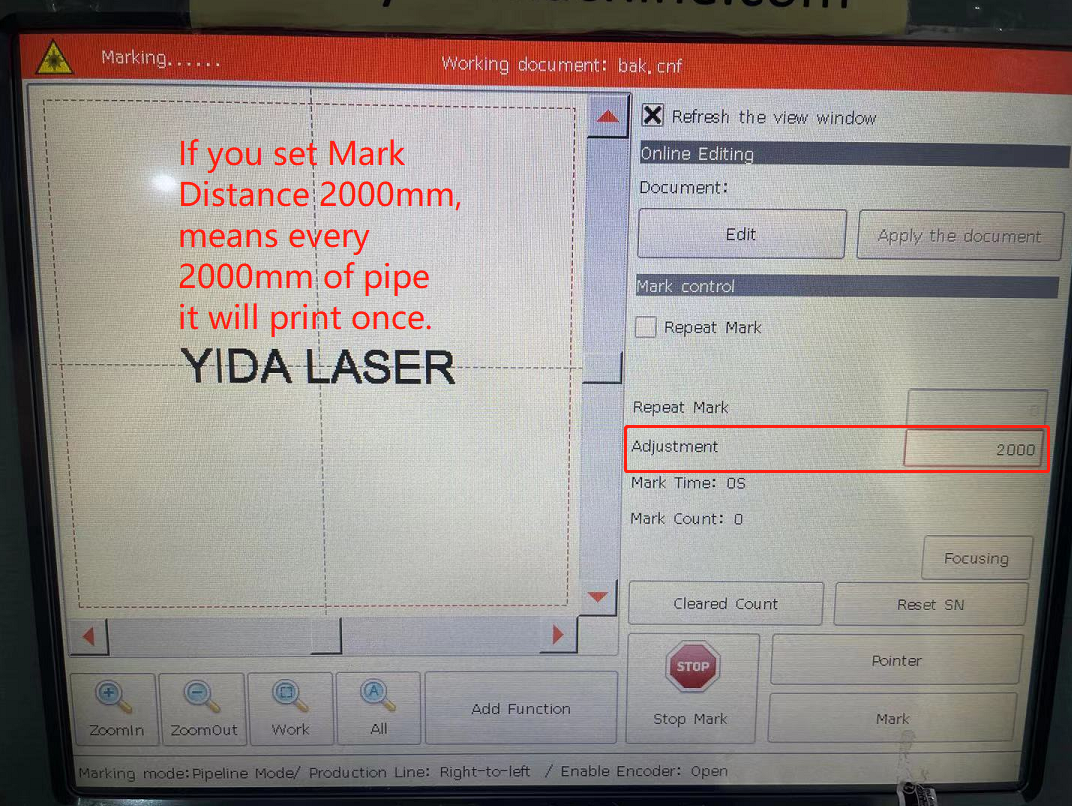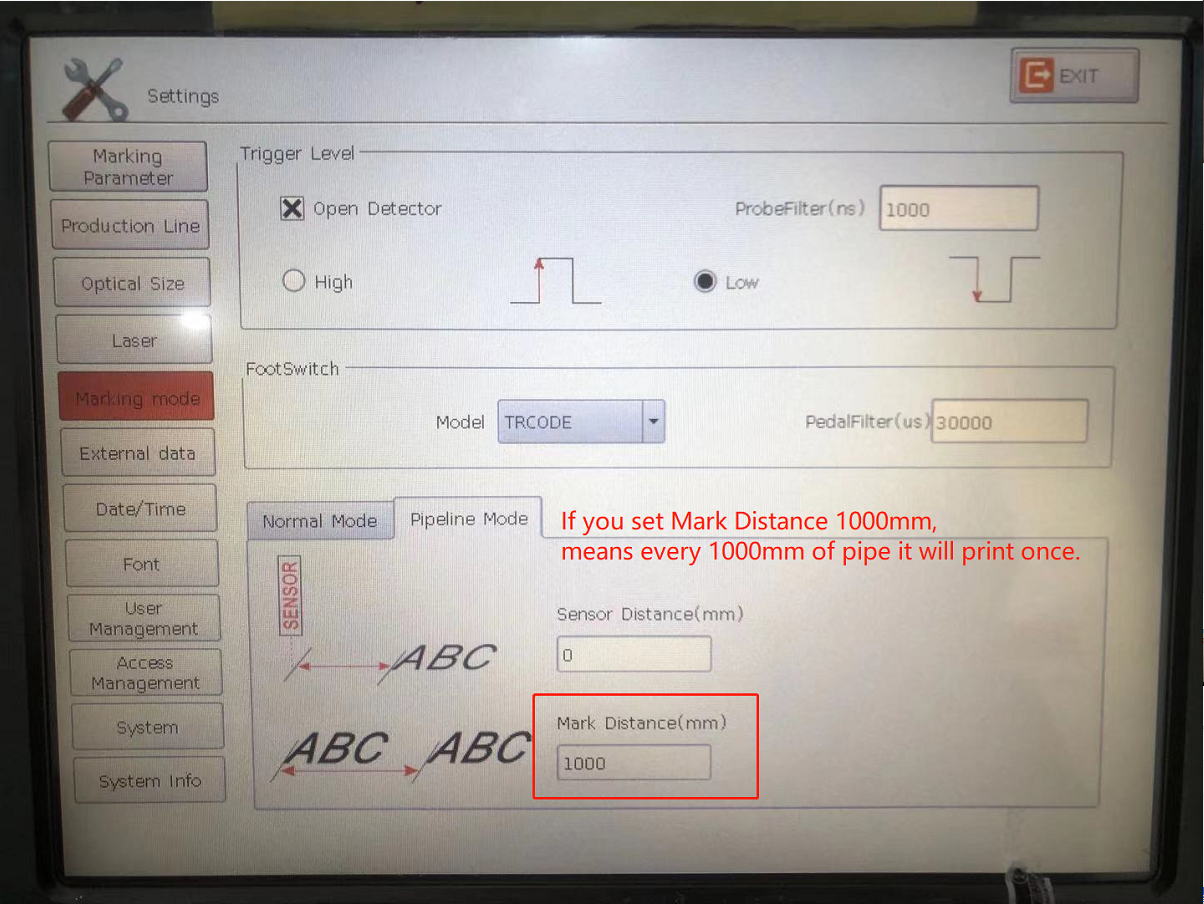 How can I do if the machine goes wrong?
If confronted with any problems, please contact us ASAP and do not try fix the machine by yourself or someone else. We will response within 12 hours as quick as we can to solve it for you.

How to install and run the machine?
Our technicians have installed the machine before shipping. For some small parts installation, we will send detail training video, user's manual along with the machine. 98% customers can learn by themselves. If there is any difficulty in installation and operating we can always have video conference to guide the setting.

Will the package damaged during transportation?
Our package is considerate all the damage factors and makes it to be safe, and our shipping agent have full experienced in safe transportation. We have exported tomanyoverseas countries. So please don't worry, you will receive the parcel in good condition.

What's the package?
We have 3 layers package. For the outside, we adopt wood craft case. In the middle, the machine is covered by foam, to protect the machine from shaking. For the inside layer, the machine is covered by thickening plastic hag for waterproof.

Laser printer-How to restart the laser printer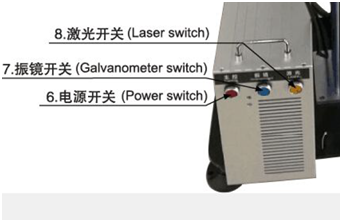 Step 1: Switch on all those three lights.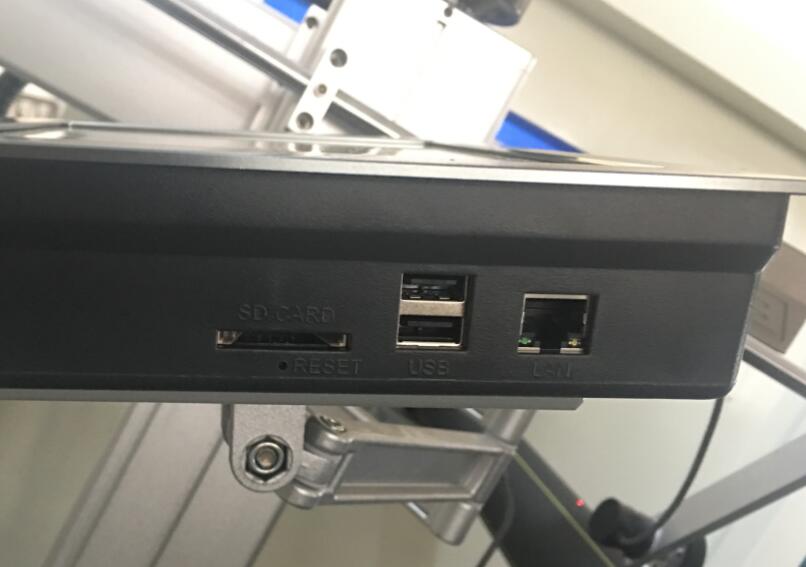 Step2: press the "Reset" which is at the right side of the screen to re-start the printer.
Video link: https://youtu.be/NKl-iLWZjfQ

Laser printer-How to choose different font to print
Here I suggest you two type of fonts, one for more clear printing, one for more fast printing (speed more than 30m/min).
1. TTF font with fill
Video of setting: https://youtu.be/dIXtohAdy4k
Pictures of setting: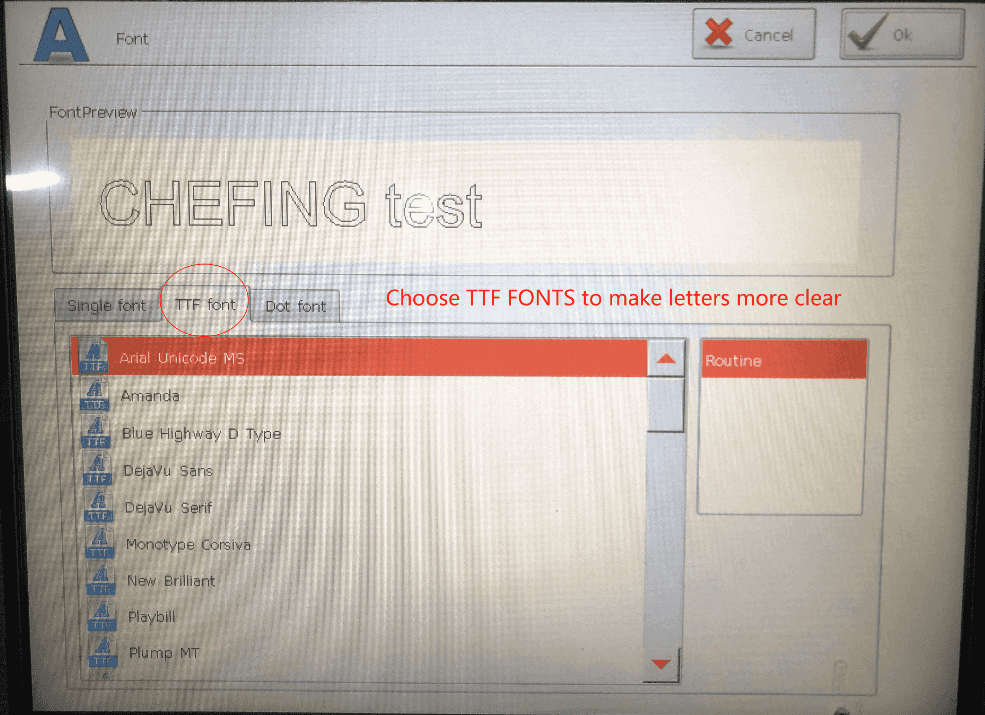 2. Choose single line font type to print with faster speed
Video of setting: https://youtu.be/PuyoMlfSvUQ
Pictures of setting: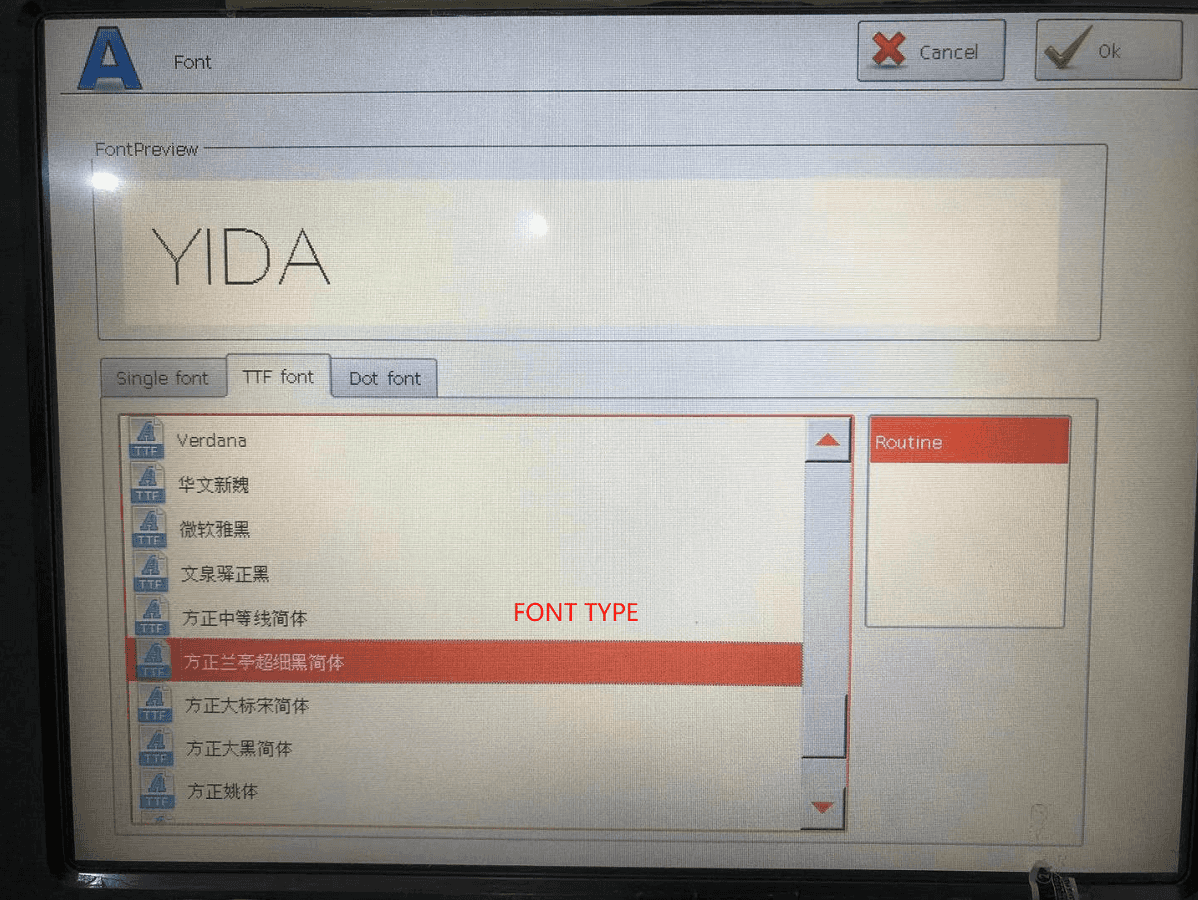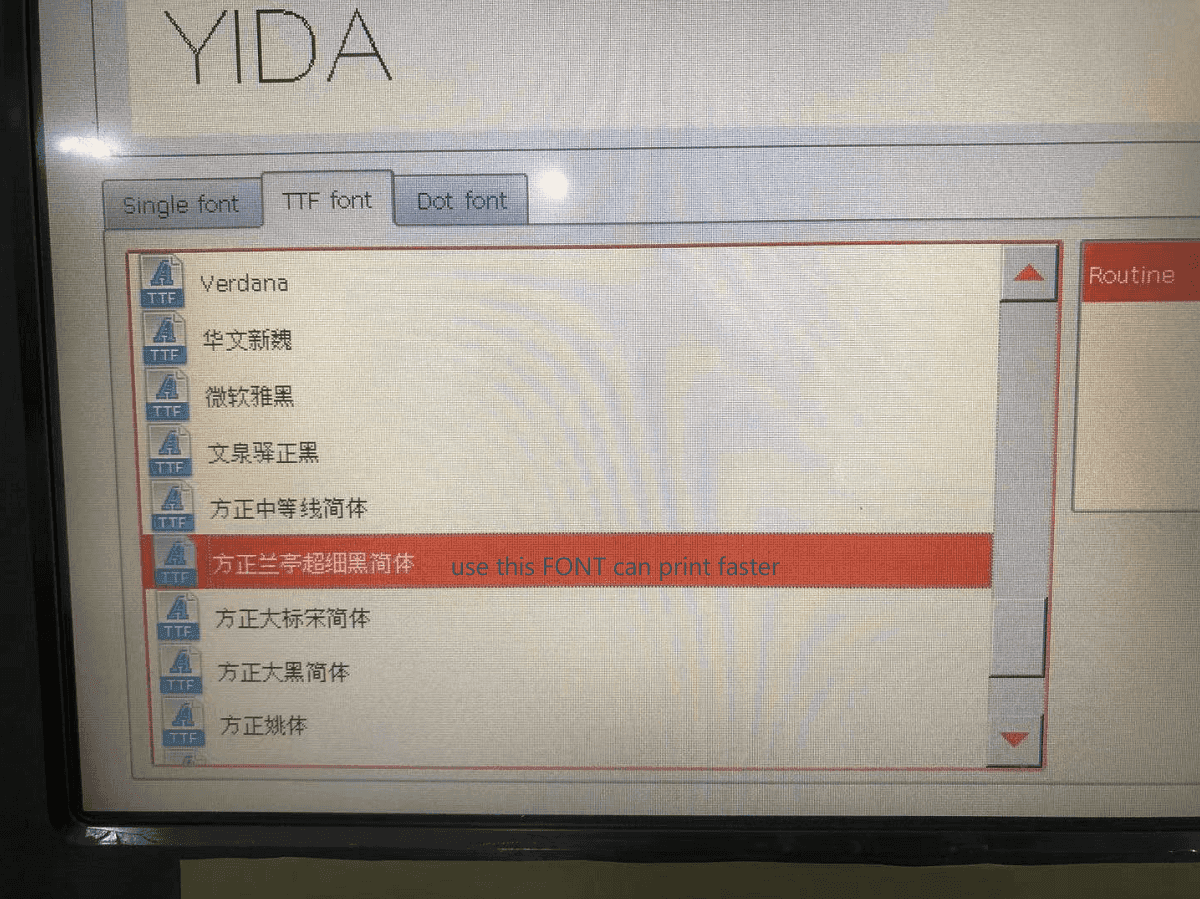 Laser printer-How to set to print off-line
Usually the laser printer is used to print on line with production.
When you want to print off line on objects, here is the setting to change: